Posted by Bella in Bella Swan, Featured | 0 Comments
Twilight – Breaking Dawn by Bella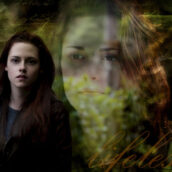 "Armor vincit omnia" means in English " Love conquers all." Like the great Virgil before her Stephanie Meyer has been able to touch on the most human of topics, that of love
Was there ever a love stronger than that of a mother's love for her child? Out of all the types of love, this is probably the most celebrated (and personally, most rewarding).
The story starts with Bella and Edward's union, and how by some twist of fate, they are able to create a life of their own, their baby. In this book, Bella had to go through fire and ice protecting an unknown life inside her womb.
In the eyes of most of the people around her, it seems such a foolish burden to pursue it, and it is for this very reason that Bella found an unlikely alliance with Rosalie, Edward's sister who has been very vocal on her stand against the relationship of Edward and Bella. But now Rosalie due to her own history and what she had to give up and can never have is determined to support the birth of the newborn despite what consequences it has on the life of Bella.
It is also shown in this book the sacrifices Jacob has to make, trying to protect Bella. But how do you protect someone who refuses it? How would you try to preserve the life of an unknown child when you see it sucking the life of the woman you love?
Over and over again, we see Bella's courage and strength in ensuring the safety of the people she loves the most. Despite the physical pain she had to go through, she worked her way through it all knowing in the end it was worth it all.
"When you loved the one who was killing you, it left you no options. How could you run, how could you fight, when doing so would hurt that beloved one? If your life was all you had to give your beloved, how could you not give it?" – Bella Cullen